Yes, history was made today. Cooper can't understand why I've been watching all day. It's exciting to see it happen. To be alive, and know I will remember when this happened. I like how he did not beat around the bush in his speech. He knows things are tough, and I think he is honestly going to try his hardest to fix them. I pray that it works!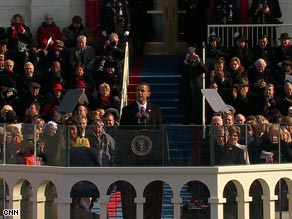 On the other hand, I am sickened by the hypocrisy of our government. The deficit we have as a nation, the troubled times we are headed into. The amount of everyday Joe's who are hurting, and yet it is totally okay to spend
$160 million
on this day. If I were elected, I would have forgone a lot of the hoopla, and helped as many people as I could with the money being spent on parades, and food, and music, etc... It is absolutely insane!